THE FOOTBALL GHOSTS
(Egmont: Red Bananas)
'Listen!' ' I said, and there it was. The thumping and banging and yelling of ghosts. Ghosts playing football!
One dark and windy night, Seamus and his Granda are out camping when they come across a tumbledown old castle, and the ghosts of the 1948 United team. It's one nil to the Rovers in the Cup Final, with only two minutes to go! But will the game ever end? And when Albert Waddle has to go off injured, will Seamus dare to take his place? Read on, and enjoy the wonderfully funny pictures by Garry Parsons while you're at it


THE HOUND OF ULSTER
(A&C Black: White Wolves)
'Who do you think you are, farmer's boy? You're too skinny and poor to join the likes of us!'
Setanta was determined to join the Red Branch Knights, but the King's young warriors were determined to stop him. First he'd have to beat them at hurling, then he'd have to fight every one of them, and then… Then there was the fierce hound of Culann to do battle with…


JACK THE GIANT-KILLER
Franklin Watts: Hopscotch Adventures (UK / Australia)
'If you don't stop now,' roared the huge and horrible giant, 'I'll come out there and eat you for breakfast!'
Jack's village is in trouble. Cormoran, the mighty giant, keeps stealing their animals, and they've hardly any food left. Brave young Jack decides to sort the giant out, but will he live to tell the tale?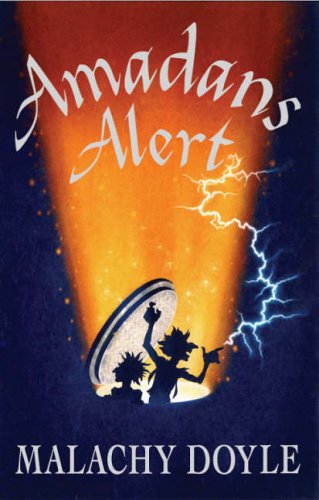 AMADANS ALERT
(Orchard Books)
'Stop!' hisses the shape in the darkness, and a long thin hand, with seven bony fingers, reaches out from inside the coat and briefly touches the thief's arm. With the touch, the Stroke, the amadan's secret weapon in the battle against crime. But nothing happens.
The amadans are back, and this time it's dangerous! Criminals in the real world - our world - have been getting up to all sorts of dirty doings while the Stroke's been out of action and while the amadans (and Jimmy, Nita and Jimmy's Grandad) have been trying to put a stop to the big and hairy Haranga. It's time for our team (with the aid of an almost reformed monster) to have a go at tackling the bad guys. But will they be strong enough and brave enough? Will Grandad have enough porridge? And how will Haranga cope when his big enormous sister, who's furious that he's gone soft, finally tracks him down?

'Time again to catch up with the Amadans, those tiny, troublesome, tricksy creatures who can travel into this world via computer screens. Their aim is to solve crime, but they spend so much time getting into scrapes it's a wonder they manage to solve anything at all! Part fantasy, part science-fiction and one hundred per cent hilarious, imaginative older readers will adore this book.' Children's Books Ireland Bookfest Magazine.

'Recounted at speed and with all the wee diversions you'd expect, there's lots of humour as disaster piles on disaster. A good rollicking read.' Books for Keeps

Also available in Australia (Watts) and Germany (Coppenrath).


AMADANS
(Orchard Books)
'I've had enough of these Amadans, trying to scare everyone,' said Jimmy. 'I think it's about time we found out who they are and what they're up to.'
One day, in a graveyard, I found a badge, with a weird message on it and a website address. I couldn't track down the site, or work out what the message meant, but it got me thinking some pretty weird thoughts, and this book is the result. Take a trip with Jimmy, Nita and Jimmy's crazy grandad, into the fantastical world of the Amadans, where Haranga, the foul and horrible monster, is causing no end of trouble. The Amadans are losing the 'stroke', which they use to tackle crime in the human world. They invite Jimmy and Nita to come through the Superhighway (Jimmy's Dad's computer screen) to help them track down Haranga, who is out to destroy the power of the stroke, and thereby take over in both the human and Amadan worlds.
There's a really funny version of this now available on cassette, read by Hugh Lee (Chivers Children's Audio Books).
'I loved Amadans and am considering registering as one. It was hilarious… I was fascinated by the hugely entertaining blend of fantasy and technology. The story hurtles along and the characters are individual and endearing.' Eoin Colfer

'Middle and upper primary-school boys and girls could equally enjoy this book - boys will relish the 'gross' descriptions and girls will appreciate the leadership roles played by Nita and Fleur. There is scope for discussion as the author interweaves many issues such as ageism, friendship, social exclusion and bullying into this light-hearted adventure story, which is told in a simple, direct and humorous style.' Rosemary Hetherington, Inis

'The plot, aside from its hi-tech framing, is comfortably predictable and the story is told at a rollicking pace, with a completely infectious energy and good-humour.' Caroline Heaton, Books for Keeps

'A witty adventure using a mixture of Irish mythology and modern technology.' Martina Evans, Irish Post

'An enchanting tale of adventure and fantasy.' CBI Bookfest Reading Guide

'I thoroughly enjoyed Amadans. It is one of my favourite books!' Rhianna, age 12

'I have just finished Amadans. It was really cool!' Lloyd, age 8, New Zealand

'Everyone in school thinks it's great!' Eoin, age 10, Wales

'I think it is great fun!' Seana Lee, age 8, Ireland

'I was wondering if Amadans were real. So… are Amadans real?' Sammy

Also available in Australia (Watts) and Germany (Coppenrath).


RILEY, KYLIE AND SMILEY (Pont: Readalones)
'Prowling, prowling on the seabed.
Goes the hungry crab.
Gets a whiff of Riley's meat,
And grab it, crab, grab!' he sang.
Every summer in Aberdyfi (where I live), you can always find loads of kids, and a few mums and dads, dangling bits of meat off the jetty to see who can catch the most crabs. I've done it myself many a time, it's brilliant fun, and Fran Evans captures the joy of it all beautifully.
'Delightful tale of summer holiday fun… a light-hearted book that children will enjoy reading. Doyle's observations are witty and always true to life. I recommend this book warmly.' Books for Keeps
'Fun reading for a bright six or seven year old. As an invocation of a summer morning the story is idyllic, and Doyle has an immediacy and breezy humour guaranteed to appeal.' New Welsh Review


HERO, TOFFER AND WALLABY (Pont: Readalones)
'In the middle of the wood was The Den. Brilliant it was. They'd only just finished making it. All day Saturday and all day Sunday they'd been up and down, with hammers and nails, black plastic and bits of wood.'
Hero, Toffer and Wallaby are proud of their Den. So it's a nasty shock to go up after school on Monday and find a stranger there…

'Good story… a satisfying read' Ninnau

'Touches lightly on issues of social inclusion and will give parents, teachers and children an enjoyable shared reading experience.' gwales.com


BILLY AND THE BEES (Poolbeg: Goldcrests)
'Go get him, bees!'
'Help!' cried the stranger. 'Get them off me!'
It was Jake, from the school! Jake was the rollerblade thief!
Billy keeps honeybees on his roof, so when someone steals his rollerblades, he sets his bees to catch them. It turns out, though, that the Rollerblade Thief only borrowed the blades to help him catch the Paper Thief…
'Sandra Elsweiler's stylish illustrations splendidly complement master storyteller Malachy Doyle's entertaining tale of bees, rollerblades and boys.' Inis (Children's Books Ireland)
'A charming story… strangely enlightening… would provoke thought and questions in young readers.' Books Ireland


CARROT THOMPSON, RECORD BREAKER (Poolbeg: Wrens)
Carrot Thompson was born to break records. When she gets a stop watch and the Biggest Book of Records for her birthday, World Record breakers look out…
'A great story about personal goals, endeavour and the triumph of failure, sewn through with humour and the odd bit of wisdom.' Irish Examiner
'Children of the 6 to 8 age group will find this a lively and amusing book to encourage them to read confidently alone.' Books Ireland


JUST-THE-SAME JAMIE (Poolbeg: Goldcrests)
Jamie doesn't like change. He likes everything to be just the same, including Aunt Alice. But one morning Aunt Alice comes to visit and she isn't the same at all. She's in a black leather suit, on a super-charged motorbike, and she's got a suit and a helmet for Jamie, too…


THE CHILDREN OF NUALA (Faber and Faber)
'A long time ago, before you were born, or your grandmother was born, or your grandmother's mother before her, in a land far away, lived Olan…'
Olan's father is an evil magician and Olan has been born with a heart of ice. When he marries a beautiful woman called Nuala, Olan casts a terrible spell on her children. But as his icy heart begins to melt, he realises what he's done and sets out to bring his family back together.
I based this story on The Children of Lir, my favourite Irish folk tale. You can read a more straightforward retelling in my Tales from Old Ireland.
Sadly, The Children of Nuala is now out of print. I have some copies available however, if you wish to purchase one.
'A magical story which has real power to enchant the reader with its charm and passion.' The School Librarian
Also available in Italian (Feltrinelli).


LITTLE PEOPLE, BIG PEOPLE (Faber and Faber)
'In the back of beyond, in the years before time, lived the Little People. Their home was the Kingdom of Under the Ground, deep in the depths of the earth.'
The story of what happens when the Big People meet the Little People for the very first time. I based this on an old Irish folk tale called 'King Iubdan and King Fergus.'
'…marries comedy with Irish lyricism and folklore, and lends itself to reading aloud.' Sunday Times
'Doyle has a hotline to readers aged between six and ten, using elements of Irish myth in fresh spritely stories of imagination and depth.' The Times
Also available in Greek (Patakis) and Italian (Feltrinelli) editions.
Sadly this book is now out of print in the UK. Copies may still be available on Amazon.


THE UGLY GREAT GIANT (Orchard Books)
'But I've won your land and I've won your cattle. What else is there to play for?' asked Sam.
'Oh, I can think of something,' said the giant. 'Your head!'
Can Yellow Lily, the Ugly Great Giant's daughter, help Sam to outwit the Giant and escape with his head still firmly attached to his shoulders? Only if Sam can find a gold ring in a stable full of two hundred years worth of horse muck, thatch a roof with the feathers of a thousand kinds of birds and fetch an egg from the top of the tallest tree in the forest.
'A thrilling story of triumph over the ugliest, meanest giant ever! Like all good fairy tales, splendid for reading aloud.' The Children's Bookshow
'Reads like a traditional fairy tale with elements of the unexpected thrown in at regular intervals to keep the reader turning the pages. Doylešs touch as a storyteller is as assured as ever.' Books for Keeps
'Told with style and humour - and plenty of nasty bits!' Carousel
'This original fairy tale is well told, using strong fairy tale motifs. It uses fresh language and just the right amount of embellishments.' Martina Evans, Irish Post
'This new fairy tale is firmly grounded in tradition, with all the excitement, humour and fear we expect to find in the best fairy tales, but also incorporating elements from Greek legend. True to tradition, there are several macabre touches, which allow readers a vicarious dose of Grimm-inspired terror. David Lucas's woodcut-style illustrations feel both reassuringly traditional and wittily modern.' Folk and Fairy Tales (Booktrust)
'I like this book because Sam cannot do everything on his own but Yellow Lily helps him. That's why I like the helping bits.' Pranav, St. Asaph
Also available in Welsh (Y Cawr Mawr Hyll: Cymdeithas Lyfrau Ceredigion)
Sadly this book is now out of print in the UK. Copies may still be available on Amazon.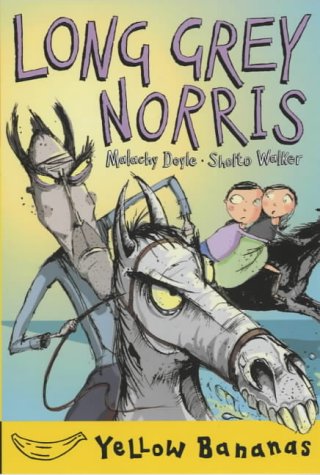 LONG GREY NORRIS (Egmont: Yellow Bananas)
'I'll give you a game,' said the long grey man. 'Winner Takes All!' said he.
He'd a face twice as long as the head of a spade and a body the length of a boat.
Long Grey Norris challenges young Brendan O'Donnell to a race, which the boy wins. But, as Brendan's terrified mother warns him, if you play with Long Grey Norris once, you play to the end, and the game never stops till he wins!
'So speedy yet unhurried, so charged with vivid, clean language and moments of wit, so pleasing in the way the story rounds on itself, defusing the terror and rewarding kindness. Doyle has a very great gift for writing for this age-group.' Kevin Crossley-Holland
'A great read! Fast-paced, in traditional fairy-tale style, this story lends itself well to being read aloud.' The Children's Bookshow
Also available in USA (Crabtree)
Sadly this book is now out of print in the UK. Copies may still be available on Amazon.


JOE'S BIKE RACE (Poolbeg: Goldcrests)
Joe thinks up a great way to raise money for the school Camping Fund - a Big Bike Race. But he's faced with problems when the bikes turn up. Unicycles, tandems, tricycles - everyone wants to join in . It's the maddest bike race ever!

Sadly this book is now out of print in the UK. Copies may still be available on Amazon.


THE GREAT HUNGER (Watts: Sparks)
The potato crop has failed and the people of Ireland are starving. When the landlord demands the rent, Art and his sister have no choice but to leave home. But will they ever get to Belfast? Will they ever find their father?

Sadly this book is now out of print in the UK. Copies may still be available on Amazon.


FAREWELL TO IRELAND (Watts: Sparks)
As the ship leaves the harbour, Mary Ellen and Frankie prepare to begin new lives in America. But first they have to survive a perilous journey across a dangerous ocean.

Sadly this book is now out of print in the UK. Copies may still be available on Amazon.


12000 MILES FROM HOME (Watts: Sparks)
It's the 1950's and Jack and Lucy are sent with other orphans to Australia. When they arrive, they are separated and forced to work. Lucy decides to escape, but how will she find Jack?

Sadly this book is now out of print in the UK. Copies may still be available on Amazon.